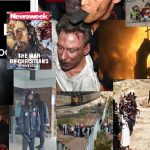 Our world appears to have gone crazy. Those wishing to remain within the boundaries of sanity and reality must fight for it, as well as for our children.
Many of us in America are at a loss to understand how our world has gotten so crazy so quickly.  What has been known for centuries to be right and good is now, suddenly, in the last twenty years been turned the opposite.  What all have known to be evil is now considered good – and what has been good is now said to be evil. Darkness takes the place of light, and light for darkness. Bitter is now 'sweet' – and sweet is exchanged for bitter.
sBrothers and Sisters – stand fast for what you know to be true. Stand strong for what you know to be good and right for your children and grandchildren. And when you have done all – continue to stand.
You are not the crazy one.
Unfortunately – it is not just our worldview and way of life that is under attack.  Christians around the world are being persecuted and even murdered – crucified, church's blown up, heads cut off –  simply because they acknowledge Jesus is Lord and Messiah.
None of us know where the current persecution of Christians and Jews across the world is headed.  But most of us realize we are just at the beginning of whatever is coming.
In the 1930's, a European government began pushing new laws and world view upon its people.  Many – in their hearts – recognized the evil.  Further, contrary to popular belief, many citizens did not agree or go along with it.  Many, unfortunately, died in their efforts to stop the evil.
Praise God – although that evil government went on to torture and murder millions – they did not prevail with their intention to take over Europe and then the world.  They did not go on to murder millions more.
They were stopped. And if we care at all for the world and our children – it is incumbent on us all to stand in the gap – stand strong – and stand up for what is right and good. …and having done all, to stand firm.
For more encouragement and information, visit "Women Pushing Back" on Facebook….
https://www.facebook.com/WomenPushingBack/