February 5, 2013
Where to begin? We met with staff members from seven DC Senate offices on Monday, February 4th. We had come to talk about the Indian Child Welfare Act and how it infringes on the rights of children and our rights as parents.
But sitting next to this young woman, who comes from the same reservation as my husband… I realized there is so, so much more we all need to talk about.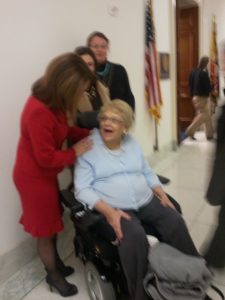 Sierra Campbell told how she was abused and used sexually as a child. A tribal member from the Leech Lake Reservation, she said she was first given to a man at the age of ten. Her younger sister was also given to man.
Having come from a dysfunctional home life, they were passed from foster home to foster home until they landed at the home of Gene and Carol Campbell.  Carol Campbell remembers holding and rocking Sierra for hours when she would wake up with night terrors. After a period of time, the Campbell's filed to adopt the girls.  But the Leech Lake government would not allow it and decided to move the girls back to the reservation and into the home of an uncle. According to the Indian Child Welfare Act, the tribal government had the right to decide who the girls could live with.
Sierra told the Senate staff how she begged to be allowed to return to the only family she had ever felt safe with. She told how she tried to run away over a dozen times to get back to the foster home where she knew she was loved. She told how her uncle had made her destroy pictures of the family she loved, and how when she was sixteen, they cut her down from a rope when she had tried to hang herself. It was only then that they finally allowed her to return to the Campbell's.
What this young woman told the Senate Staff matches is similar to stories we have been told by families across American for years. This travesty has gone on for too long. And there is much, much more. The prostitution of young girls has become common place. You want to talk about sex-trafficking? It is happening on reservations as well.
The feeling in Congress and across much of America is that the tribal leaders can't be messed with. Don't you dare step on their toes – don't you dare question tribal sovereignty.
Well, I am questioning it.