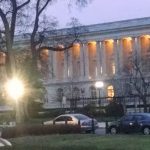 September 21st, 2009
What, pray tell, had Lewis changed about this disingenuous – some say even criminal – organization?
When Acorn CEO and Chief Organizer Bertha Lewis told Fox News Sunday that she has made many changes, and "Since I took over, I have overhauled the entire system," what changes was she speaking of?
She said that there at now firewalls protecting the organizations finances, but Congressman Darrell Issa responded, "Your own counsel, Kingsley, said is not true. You don't have firewalls."
When Host Christ Wallace asked Congressman Issa to explain why he thinks Acorn is a criminal organization, the Congressman said,
"Well, one thing they did was they covered up an embezzlement, both internally and externally, and then glossed over the dollars…almost a million dollars. Basically, the founder stayed on the board until this became public eight years later. Now he's with affiliates doing the same work and able to say well, he's not with the company. The bottom line is there's no transparency in Acorn. Any charity that you would look at…You normally find out who's paid what, where the money goes, what the collection costs are and so on.
"Here we have literally hundreds of organizations tied under the ACORN umbrella, and you can't even find out what their incorporation is, whether they pay taxes, who makes what or, more importantly, whether corporations within the affiliates work in different areas — political fundraising, getting candidates elected, voter registration, other community activities, whether or not those moneys are fungibly moved illegally."
The House Committee on Oversight and Government Reforms issued an 88-page report in July charging that "Acorn has committed investment fraud, deprived the public of its right to honest services, and engaged in a racketeering enterprise affecting interstate commerce."
But Ms. Lewis doesn't seem to understand how all this matters.  On September 12, she stated, "We are their Willie Horton for 2009.  We are the boogeyman for the right wing and its echo chamber,"
During Fox News interview, Ms. Lewis also called the proposal to defund Acorn an "Anti-Acorn Amendment," as if it was an unwarranted and prejudicial attack rather than the logical result of Acorn's own mismanagement.
Chris Wallace asked Lewis, "Can you still say this is just about race and politics?"
She avoided the question by responding with the excuse, "Any organization is not entirely perfect."
Mr. Wallace, it is clear that Ms. Lewis does still think this is about race, as evidenced by her continual references to her organization as "mostly people of color" and her constituents as, "500,000 poor black and brown, Asian and white people in this country."  People that don't feel race is a priority don't continuously and unnecessarily refer to the color of people's skin. I know, I'm also the administrator of an organization serving a minority issue. I refer to heritage only when necessary and I refuse to count or keep data on the heritage of our members or donors.
After telling Ms. Lewis that he doesn't know of any other organization structured like Acorn (a political wing of the Democratic Party, closely related to unions, taking federal dollars as well as charity, yet no disclosure or transparency) Congressman Issa asked, "If you're going to change this, will you come before Chairman Towns, a man who, by the way, voted not to cut off your funding, and get — and give the kind of disclosure to where the Government Oversight and Reform Committee can know that you are doing work with firewalls… so the American people know that their dollars don't end up doing political activities prohibited by law?"
Ms. Lewis not only refused to answer, she refused to even look at him. Instead she immediately jumped into a prepared statement, saying, "Here's the question that we really should be asking…"
Wallace attempted to stop her, saying, "…no, no. Answer his question, if you will," but she continued avoiding it, seeking instead the collective white guilt that had so been so effective in the past, "There are poor people in this country every day that we're saving their homes," she started…
Wallace tried to redirect her back to the question seven more times, but she continued to talk over him, …"my job is to serve our 500,000 members. My job…"
Congressman Issa finally got her attention when he said, "There is no God-given right for any organization to receive a grant from the American people. The fact is there are organizations standing in line that wish they won instead of you, and they're giving us the transparency so we can have the confidence the money is spent only for the purpose of the grant."
But even in this response she wouldn't look at Issa or even address it to him.  Addressing Wallace instead, she said, "Congressman Issa is right. You have competitive grants and you need to compete with a lot of other folks. You need to deliver those services. He's absolutely right…Since I took over; I have overhauled the entire system…"
Not seeing the overhaul, Congressman Issa again asked her to come with transparency before the committee.  Once more, Lewis refused to respond.
The Congressman later ended by saying, "… my opinion continues to be you shouldn't get another penny of federal dollars until you demonstrate that those dollars are firewalled for only that use, and that has not been the history of the organization."
Lewis, again, not understanding the severity of the issues and not addressing the Congressman directly, retorted, "And I'm glad Congressman Issa said that is his opinion."
What is it that Ms. Lewis doesn't understand? The founder of Acorn, despite his embezzlement, continued to work with Acorn affiliates.  That's on Ms. Lewis' watch. Earlier this month, eleven Acorn staff were arrested in Florida for filing fraudulent voter registrations.  That was on Ms. Lewis' watch.  And now the pimping, tax evasion, child smuggling videos – again, Lewis' watch.  Further, she not only refused to face the Congressman when he was speaking to her, but refused to answer his questions, talked over the host, and instead of understanding the severity of the problems, snapped about things being just peoples "opinions."
For many of us in the public, Ms. Lewis seemed not only evasive, but rude.  This, while at the same time accusing her employees of being too stupid to understand that they are not reaching professional standards.  Ms. Lewis, what is YOUR understanding of professional standards?
If Congressman Issa is right about Acorn being a criminal organization, one has to wonder just which standards Lewis's employees have 'stupidly" bungled on.  Were they unprofessional in the advice they gave, or in not being careful as to whom they gave it to?
Just what, pray tell, had Lewis changed about Acorn in the last year, and what can we realistically hope will be changed this year?