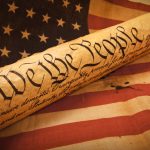 by Lisa Morris
I am an evangelical Christian and constitutional conservative who will continue to speak the truth, no matter what.
I will not attend rallies – which lately appear to be setting people up as sitting ducks.
But I WILL continue to speak, write, and vote my conscience – using information based on Biblical, historical, and documented truth – no matter what anyone says, and no matter what anyone calls me.
Thank you, Lord Jesus, for the intelligent, wise, and good men who founded our nation and wrote our Constitution. It was an amazing, unparalleled achievement.
To those who are confused by the current inane rhetoric from the left, many of our founding fathers did NOT believe slavery should be legal and openly spoke, wrote, and campaigned against it.
Less than 100 years after the founding of our nation, through the tireless work of many, slavery was finally made illegal in the United States.
But legal slavery remains today in many other nations – and ILLEGAL slavery and human trafficking are growing in the United States.
THAT is where rage needs to be focused – if one honestly cares about what slavery does to people. Save those who are enduring forced servitude in America and around the world TODAY.
God save and BLESS America. Make America Great Again.