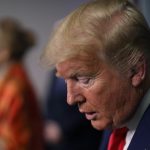 President Trump,
Please VETO the stimulus bill, and instead – – use that money to forgive all – or most – federal loans to US CITIZENS – benefiting RURAL and MIDDLE CLASS rather than the swamp and their cronies.
While forgiving all federal loans is contrary to conservative and fiscal wisdom – Congress intends to spend that money anyway – and MORE within the first few weeks of a Biden presidency.
WE NEED to throw a wrench. Forgiving all federal loans will benefit ALL Americans in the long run by unburdening many in the middle class – THUS stimulating the economy. It will also take money out of Congress's thieving hands and put Pelosi, Biden and the swamp back in their place. PLEASE DO THIS. Call it a time for Jubilee.
Fellow citizens,
Congress is going to spend that money whether we like it or not. We have tried for years to stop their corrupt spending. We haven't even slowed them down. What we are talking about here is essentially taking the money AWAY from Congress. You can consider it robbing CONGRESS before they rob us – or consider it simply emptying their purse. Either way, taking money away from Congress benefits EVERYONE.
Further…forgiveness of federal loans benefits everyone because it involves small business loans, agriculture loans, and home mortgages. Even if a community member does not have a federal loan, money is being put back into the community rather than sent to Pakistan for gender studies. This is what stimulating our economy is all about. Small businesses are saved, farms are saved, and homes are saved. More money is available to spend and reinvest. More people can be hired. The economy gets a shot in the arm. An additional benefit is that those on the left who appear to want all that destroyed are set back.
Lastly, the current stimulus bill is NOT about helping people at all. It is just an excuse to fund pork and foreign quid-pro-quo. We can't stop them from this criminal overspend because the GOP is going along with them – again.
The only thing we can hope for is a way to
1. take away their excuse for pork bill – as well as
2. take away part of their expected budget, and
3. do it fast, before Congress overrides the veto.
If you have a different suggestion that could do all those things – say it.