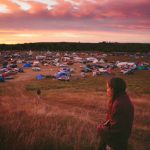 If the reasons given for sustained protest don't hold water, why are people flocking to Cannon Ball?
Fear of oil spills and cultural destruction is justified. On June 23rd of this year, 700 barrels of crude oil spilled from a pipeline near Ventura, California, threatening the Pacific Ocean. In July – an estimated 66,000 gallons of heavy oil, along with natural gas used to dilute it, spilled within 1,000 feet of the North Saskatchewan River in Canada, threatening the drinking water of several communities. And just this last Sunday, Oct 23, an oil spill in Oklahoma closed Seaway Pipeline for days. With this in mind, Standing Rock officials have a right to be concerned.
Unfortunately, America's need for fossil fuels will not disappear overnight. Each of us uses fossil fuels in one form or another every day. Even on the Standing Rock reservation, families are filling their fuel tanks in preparation for winter. If there were suddenly no oil, many would suffer.
North Dakota's oil industry also provides a living – feeding families – for untold men and women. Once obtained, that oil must get to the refineries one way or another. It will either be by truck, train, or by pipeline.  All three run risks of spillage – but pipelines run least risk, especially when laws are obeyed. Did Dakota Access Pipeline obtain permits legally?
All indications are they did. The ND Public Service Commission approved a siting permit in January, 2016 after doing a thorough survey. The Army Corps of Engineers (Corps), after their own survey, issued the final Environmental Assessment on July 25th. All told, the surveys covered the entire length of pipeline in North and South Dakota, and much of Iowa and Illinois.  Yet, on July 27th, 2016, 'Earthjustice' and the Standing Rock Sioux Tribal Government sued the Corps.
After reviewing all the records, U.S. District Judge James Boasberg noted that "The plotted course almost exclusively tracked privately held lands" and "tracks both the Northern Border Gas Pipeline, which was placed into service in 1982, and an existing overhead utility line. In fact, where it crosses Lake Oahe, DAPL is 100% adjacent to, and within 22 to 300 feet from, the existing pipeline.  Dakota Access chose this route because these locations had already "been disturbed…making it less likely…to harm intact cultural or tribal features." Additionally, not only had Dakota Access identified historic properties through the help of federal, state, and tribal entities, it even gerrymandered the pipeline to stay a safe distance away. (STANDING ROCK SIOUX TRIBE v. U.S. ARMY CORPS OF ENGINEERS. )
Judge Boasberg also noted, "…only 3% of the work needed to build the pipeline would ever require federal approval of any kind and only 1% of the pipeline was set to affect U.S. waterways…." and for several months, attempts to work with Standing Rock were either rebuffed or ignored. It wasn't until Spring, 2016 that at least seven meetings were held between the Corp and Standing Rock officials.
At the request of tribal officials at these meetings, "the Corps committed to double-walled piping" which involved a pipe carrying oil inside another pipe with liquid between and valves that initiate a shutdown in the event of a leak. Getting the Corps to commit to double-walled piping was wise of Standing Rock officials, which should have already been part of DAPL's plan.
In March, 2016, Standing Rock Sioux Chairman David Archambault acknowledged that the Corps had made strides and indicated meetings were productive. "Yet, at the end of April, Chairman Archambault formally objected to a determination to proceed, stating, "To date, none of our request for consultation or Class III Cultural Surveys has been honored."
After reviewing all the documentation, the Court denied the Plaintiff's motion on September 9, 2016, concluding "the Court scrutinized the permitting process here with particular care. Having done so, the Court must nonetheless conclude that the Tribe has not demonstrated that an injunction is warranted here."
Minutes later, despite documentation the Corps acting in good faith and court rulings, the Department of Justice, Department of Interior, and Department of the Army refused further construction on Corps land adjacent to Lake Oahe.
The current administration chose to ignore the law, and the tribal government and its supporters have chosen to obscure facts, escalate the tension, and destroy private property.
According to witnesses, the reports spread concerning private security forces with dogs attacking protesters were not true.  Protesters broke into a fenced off area, and one took a fence post and hit a dog on the side of the head with it. The blood on the dog's mouth was its own, and was treated at a local veterinary hospital.
On October 9th, the D.C. Circuit Court of Appeals unanimously ruled – again on the basis of documented good faith of Dakota Access, North Dakota officials and the Corps – to finish the pipeline up to Lake Oahe until the Obama Administration allows the final easement to proceed.
On Oct. 20, Congressman Kevin Cramer, Chairman Archambault, U.S. Corps of Engineers Commander Col. John Henderson, SRS Tribal Historic Preservation Officer John Eagle, other specialists walked the property to see and discuss the resources together. Two rock formations of concern to the tribe were partially covered with dirt and even though archaeologists disagreed on whether they were significant, the company agreed to secure those areas. Chairman Archambault believes there are burial sites in the area, but no one knows for certain and there are protocols if unknown artifacts are found.
Disagreement aside, the group respectfully listened to each other. Congressman Cramer later stated the site examination was "an invaluable relationship-building experience that helped us better understand North Dakota's cultural landscape.  I believe those of us on all sides of the Dakota Access Pipeline issue benefited from walking together and sharing our expertise, experiences and expectations…And, I am certain…the Corps of Engineers will feel confident it has the adequate affirmation to issue the final easement…"
But if the two identified formations, significant or not, are out of the line of danger, and there is agreement to use double-walled piping – what is the continued purpose of the protests?  We don't really know.
Witnesses state that out-siders coming from other areas of the country are "very belligerent and threatening of local farmers and ranchers in the area." One farmer asked police to accompany the school bus to pick up and drop off their children to and from school. Law enforcement officers are stretched to the max, and officers from other cities have volunteered to come help. According to the Morton Country Sheriff's Public Information Officer, the protests cost $500,000 a day for the state and Morton county combined. Morton County has spent $3 million and the State has spent $7 million since the end of September. Further, 126 were arrested on Saturday. Of the 246 people arrested at the initial date of this writing – 223 were not from ND. Only 9% of those arrested are from ND.
Morton Sheriff Kyle Kirchmeier stated local residents are  "Afraid to go places," but "have to get their fall work done." Cars going 65 mph on Hwy 1806 need to suddenly come to a stop when people decide to block the road. Even if people are on the sides of the road are frightening, as locals are uncertain whether someone will step out. People from out-of-state have walked around the area in what feels to locals is a threatening manner. Local ranchers feel intimidated. Teachers on their way to work have felt threatened by apparent road-rage of strangers.
On October 15, one horse and four cattle were found shot to death. On Oct 18, the North Dakota Congressional delegation came together and issued a bi-partisan press release denouncing the unlawful butchering of livestock near the protester camp. "U.S. Senators Heidi Heitkamp, John Hoeven, and Congressman Kevin Cramer today called for federal resources to support the efforts of Morton County law enforcement to keep tribes, ranchers, workers, and their property safe."
Protesters then moved to private property east of Hwy 1806 and established a "no surrender line." When Sheriff Laney asked them to move back to the main site, they refused. When told law enforcement must enforce the law, a man threatened, "there are young men willing to cause issues" and "This is what you are going to bring on by your actions."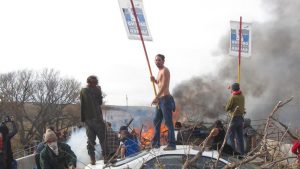 On October 27, the police went in to remove the protesters, who were burning mounds of tires, sending noxious fumes into the air.  Before the protesters could be moved, they also set on fire several pieces of heavy machinery and one woman shot at police. The police did not return fire, but did what they had to do to move hundreds of unwilling protesters and arsonists. 141 people were arrested.
Apparently, the local ranchers and police aren't the only ones who would like the protesters to stop.  Many members of Standing Rock feel the same way.  Some, in fact, just want the protesters to go away.  
So What is REALLY Going on?
Why – if all have agreed that no cultural resources appear in danger, double-piping is assured, and the pipeline is following an already "used" route through the area – are protests not only continuing, but are growing? With so many issues of corruption today, we have to ask if other things are going on.
The fact is, Standing Rock and other Reservations have been in the oil business for a long time. There is substantial evidence that income from oil and gas drilling is not new to the Standing Rock Reservation.
And contrary to the en-flamed rhetoric of Jesse Jackson, who claimed DAPL is "the ripest case of environmental racism" he has seen in a long time, and that the pipeline isn't running through Bismarck, ND, because their "residents don't want their water threatened" – pipelines already DO run through Bismarck, as well as most of the major cities in South Dakota. It has nothing to do with heritage. Not only do pipelines already cross major population hubs, but oil and gas pipelines cross the Missouri River numerous times as well.
Further, according to reporter Rob Port, "the Three Affiliated Tribes of the Fort Berthold Reservation have profited enormously from the oil boom in North Dakota."  – to the tune of millions of dollars.
Port is right. In 2014, the Fort Berthold Reservation, about 120 miles north of the DAPL protest site, started building a "transload facility, the first part of the Three Affiliated Tribes' Thunder Butte Petroleum Services Inc. refinery projects, which will transport Bakken crude to market," according to their former Chairman, Tex Hall. In fact, the refinery is named Thunder Butte,"for one of the most sacred buttes on the Fort Berthold Reservation."
Oil produced on Fort Berthold accounts for 20 percent of oil production in the Bakken, Hall said. The Mandaree area leads the way as the highest producing zone.
"There are 640 wellheads on the reservation." and "wellhead numbers are projected to peak at about 3,000. About 150,000 barrels are produced on the reservation per day. That number is expected to reach 175,000 barrels per day," according to Hall.  These fracking wells will use water from Lake Sakakawea (part of the Missouri river) for refinery, extraction and byproduct, and feed downstream to Lake Oahe.
Yet – neither the Standing Rock tribal government nor the "water protectors" protesting the DAPL have said a word against Fort Berthold's oil industry. Even more interesting, Fort Berthold has recently signed on as supporters of NoDAPL as well.
With the disingenuous yet emotionally effective propaganda concerning this particular pipeline growing worldwide, it is getting increasingly difficult for some to speak against it, even when faced with real facts.
So who is pushing the propaganda?
It is hard to say. In 2011 it was estimated George Soros has given at least $3.5 million to the Tides Center, which currently supports the Standing Rock protests. Further, a 2014 Toronto Sun article written by Ezra Levant revealed the Tides Foundation had paid $55,000 to Athabasca Chipewyan Chief Allan Adam to oppose the development of oil sands in Canada.
Both Soros and Warren Buffet appear to have invested heavily in derailing the Keystone pipeline, which would have by-passed their holdings in getting oil from Canada south to the refinery. Soros has invested in a Brazilian oil field, while Buffet owns the railroad that would transport ND Balkan oil to the refineries. Some say they are also invested in companies that build rail cars and chemical companies that make products to mix with extracted crude. This is not the work of environmentalists.
According to Port, "It makes you wonder how much opposition to energy development, not to mention energy infrastructure…is authentic as opposed to manufactured noise…" We agree. This isn't the first pipeline to be protested by supposed environmentalists.  It's just the one to have gotten the most world-wide attention. Whether it has been Soros or Buffet behind the varied protests over the last few years – or whether some other powerful opponent – questions of big money behind fighting oil pipelines abound. Investors Business Daily had suggested in 2015 that Russia was involved with fighting the Sandpiper pipeline.
Sadly, there has been a lot of information about what is going on at Standing Rock that has not been reported outside of North Dakota.  After watching major media spend months hiding and spinning government corruption, then watching major media spin the pipeline into a one-sided story, many are left feeling we truly only have a voice if 'powers that be' allow it – and they only allow it if it benefits their agenda.
There ARE many good people at the protest who came with genuine intention to do good for Standing Rock and the environment.  They simply haven't been told all the true facts.  Then there are some at the camp with no agenda at all – being at Standing Rock is simply an opportunity to enjoy the outdoors, spend time with friends, and be part of something big.  Still others are there with an unknown agenda.
Big money aside, Bruce Ellison, an AIM attorney who has been implicated in the murder of Anna Mae Pictou Aquash and who repeatedly pled the 5th when questioned before a grand jury, is also there assisting the protesters. You can read more about AIM and company here.
Those who choose to donate to the Standing Rock camp need to be aware who all they are donating to.
Our hope is that all the people concerned about the well-being of children at Standing Rock would be as concerned about the following:
Tribal governments and their supporters have been documenting rampant sexual and physical abuse of children on many reservations.  The documentation is solid and has been so for at least two decades. Despite many hearings, reports and billions of dollars, the situation appears to be only getting worse. There are various practical reasons this could be occurring – but heritage and history are not among them.  You can read the documentation of the abuse here – and make your own decision as to whether an additional pipeline over the Missouri River is more of a threat to children than the high levels of abuse tribal entities have self-reported. Read the documentation – and make your own decision about what you, as a concerned and caring community member, can do about it.
Congressman Cramer stated in a constituent letter concerning the Dakota Access pipeline, "I pray for the safety of all those involved and a peaceful resolution." We agree and pray with you, Congressman Cramer.
Additional information about where pipeline funding might be coming from: 
---
http://www.foxnews.com/politics/2016/08/16/money-talks-from-ferguson-to-unrest-overseas-new-reports-reveal-soros-influence.html
These institutions' programs concerned Native American students and … church body officials; American Indian Movement officials; and directors and other staff … was founded in 1970 through activities of the Lutheran Church and Indian People … Association of Evangelical Lutheran Churches (joined in 1978), and Latvian …
Indian Movement does not speak for the American Indians. … government and from a variety of religious organizations, Catholic and Protestant. … and by the churches has been used to radicalize the Indians, to stage confrontations like … Contrary to the representations of AIM in soliciting these funds, they have not been …