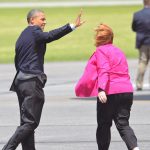 Senator Heitkamp,
As a North Dakota constituent, I am very concerned by your silence during these Senate hearings concerning Judge Kavanaugh. I, along with many North Dakotans, am disturbed by the inappropriate disruptions by protestors and discourteous, insulting behavior of Democratic senators on the committee.
I am wondering how you would feel if you were in honorable Judge Kavanaugh's position, or how you would feel if the shoe were on the other foot as a committee member having to endure this level of rudeness.
I am wondering why you haven't made a statement calling for civility and respect.  Do Democrats want the developing chasm between Americans to continue to widen? Or do you, Senator Heitkamp, value unity and respectful dialogue?
This is a very important question for me, personally.   I will be attending hearings as a member of your Congressional Commission – the Alyce Spotted Bear and Walter Soboleff Commission on Native Children over the next couple years.  Having attended contentious hearings in the past with my husband, I am very aware of the potential for angry, insulting behavior directed at me during these hearings – especially if I ask a question someone might not like.  I remember an angry, packed, out-of-control hearing in Billings that frightened even my husband so much that he decided against openly testifying. He handed his written testimony to a staff person and we left. My husband was afraid of being physically hurt at that hearing – and that was in the late 90's or so when things were a lot more civil than they are today.
I am a human being. I get hurt, I bleed, just like everyone else.  Courteous behavior in the public square used to be normal and anticipated.  I want to know that manners and civility are not only expected but insisted upon at public hearings of any type, anywhere in this country.  I want to know – I NEED to know – that I will be physically SAFE at the meetings I attend.
If you are refusing to stand up for civility and safety at a hearing inside a Congressional building in DC – at the hearing for a Supreme Court Justice no less – how can I expect you to stand up for my safety at hearings across the country?  Will you stand up for my safety?
Despite your campaign claim that you value all voices and prioritize standing up "for North Dakotans and making sure that their voices are heard in the halls of Congress" and that you "make it a point to meet with, listen to, and fight for North Dakotans every day" – this is not how I have ever been received by your staff.  Despite several attempts to schedule direct meetings with you over the years, I have yet to have even one meeting with you.
In late 2013, I actually felt ridiculed by your DC staff when attempting to meet with an aide.
Watching you sit silently now while Judge Kavanaugh's children are escorted out of the hearing for their safety – I have no confidence you will be a voice of protection for me, one of your constituents, at the hearings I will be attending as member of your commission.
Senator Heitkamp – please show your mettle and take a stand for what is right.  Please show us that you value all voices as you say you do – and make a statement against the out-of-control behavior currently exhibited during the Kavanaugh hearings.  Please make it clear that respectful, considerate behavior – including from members of the committees – is expected at any and all government hearings.
It is impossible for our nation to come together and reach any kind of consensus without it.
Elizabeth Sharon (Lisa) Morris
Chairwoman
Christian Alliance for Indian Child Welfare (CAICW)