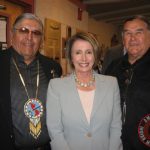 A bill recently submitted by Senator Tom Udall and Representative Ben Ray Lujan to the two Judiciary Committees makes it much easier for tribal governments to forge the absentee ballots of tribal members
S. 739 and H.R. 1694 – – ''Native American Voting Rights Act of 2019''
– appears to be in reality the "Tribal Gov't Right to Steal Votes of Tribal Members Act.''
[ You can find the contact information for your delegation at senate.gov and house.gov. ]
The Reality is, Abuse of Absentee Ballots has Been Occurring for Years. This new bill just makes it easier. The following is one highly documented case that happened as far back as the 1990's;
In the 1990's, tribal council's from White Earth and Leech Lake in Minnesota were convicted in federal court of ballot box stuffing and embezzlement. Using the absentee ballots of tribal members who no longer lived on the reservation…or, as one sister testified in federal court, were dead…members of these councils ensured they kept their seats.
Highlights from that federal trial, compiled by Feather Eaglerock (Leech Lake, Sat, 8, Jun 1996) from the June 7, 1996 issue of the Native American Press/Ojibwe News] include –
Excerpts of testimony in the White Earth corruption trial:
— White Earth Reservation officials used funds from a public assistance program with a $1.1 million annual budget to compensate Leech Lake and White Earth members who helped them obtain and certify fraudulent ballots in 1990 and 1994
–indicted White Earth election board chair Carley Jasken also directed the assistance program, but despite the federal charges, Jasken will be responsible for overseeing next Tuesday's balloting.
–Notary Eleanor Craven testied she and a friend, Connie McKenzie, set up an assembly line system to validate the fraudulent votes, with Craven signing as notary and McKenzie stamping the envelopes with Craven's notary seal. Together, Craven and Peter Pequette certified at least 168 fraudulent votes, according to White Earth election records
–a secretary to the WE tribal council testified that Carly Jasken and other White Earth election officials joined in shredding a list of voters and stuffing the paper into garbage bags in Sept. 1994. Terri Darco, secretary, said Jasken told her that she didn't care for Dave Barnes, a federal investigator who had obtained a subpoena to collect election records. "She said. . . when you see your friend Dave Barnes, tell him I have the information he wants, all bagged up."
–Friends and relatives who have examined available voter lists have identified at least 7 ballots cast in the names of deceased relatives, certified as valid by Pequette and Craven on the afternoon of May 25, 1994.
–other testimony revealed such election practices as obtaining signatures from the impoverished Minneapolis clientele at the Catholic Charities Franklin Avenue branch; votes cast for hospitalized and incapacitated members; and absentee ballots in the names of people who actually voted at the polls or had not voted at all
–as part of his agreement with the government, Pequette consented to plead guilty to state charges of misusing his notary seal. But the state has not taken him up on his offer and he remains a notary public.
–Terry LaDuke, Leech Lake employee, received two payments of $400 each from the White Earth general fund in 1994; testified that is was common practice at both Leech Lake and White Earth to gather ballots to be notarized, with or without the voter's presence.
–Tom Staples, Leech Lake employee, received checks totaling $2,000 in 1994 for among other things, delivering ballots notarized by Henry Harper to the White Earth Election Board in Mahnomen. Government records show another $600 check cashed at the Shooting Star Casino is his name, but Staples said the signature does not match his.
–in an election appeal in Sept 1994, the Minnesota Chippewa Tribe appointed White Earth election board alternate Patricia Keogh and MCT executive director Gray Frazer to review the election, and, despite finding more than 300 invalid ballots, then-chief judge Tammy Stromstad upheld the results.
–questioning Gary Frazer, defense attorneys tried to establish that the BIA and the MCT's Tribal Executive Committee oversee the elections, "Isn't it true that the federal government ultimately approves every election of the White Earth Reservation?" Frazer took a long pause before answering that the Bureau does have the authority to intervene. In fact, however, the BIA does not examine election results or monitor the vote, despite more that a decade of complaints of fraud. Similarly, Frazer testified that the TEC does not enforce its election ordinance, leaving the RBCs total control over interpreting the MCT constitution and tribal law. Asked, "How often in your tenure have the members of the tribe been asked to votes on these interpretations?" Without hesitation the MCT administrator answered, 'none.'
–for six years, Sue Bellefeuille has told anyone who would listen that she personally forged 135 ballots for Rawley in the fall of 1990, at Jasken's request. Rawley lost a close election to Eugene McArthur, but RBC election judge Richard Tanner ordered a new vote in September. Bellefeuille, then bingo hall manager, testified that Rawley gave her and enrollment book to help verify addresses and birthdates for the votes she cast for relatives Bellefeuille told the Press that she also ran extra bingo games at night to generate unrecorded cash for Rawley's use
–Clark's attorney, Peter Mayrand, brought a response from Indian spectators when he asked prosecution witness Eugene McArthur, a White Earth candidate in this year's election, if he knew anything about the Anishinabe culture. McArthur had previously rebutted the defense argument that voting for relatives was an Anishinabe tradition they referred to as "clan voting"
–Clark's 82-year-old aunt Stella Oppegard's testimony brought the biggest reaction from the mostly emotionless councilman. He turned his head away and looked down as she spoke. Oppegard said she was asked by her nephew to be a public notary and later he brought absentee ballots for her to sign. Oppegard was shaking as she entered the witness stand. Sources at White earth say Clark had promised her some money to play bingo. Other notaries who testified say they were offered money in exchange for their services.
–additionally, Wadena and Rawley are accused of accepting bribes of gratuities of $428,682 and $21,500 respectively from Clark to assure that his drywall firm would land a contract to help build the tribe's Shooting Star Casino in Mahnomen. In questions to witnesses, defense attorneys have suggested that the tribal officials deserved the money because they built a casino that employees about 1,000 people, most of them Indians, on a remote reservation in northwestern Minnesota. They say the officials were operating in the belief that treaties and federal statutes over the years gave the authority to do what they did. Defense lawyers have tried to convince the jury that over-zealous federal investigators singled out Wadena, Rawley and Clark for conduct common among Indian officials.
Complied and published by feather eaglerock, leech lake rez
A few years later, on the Flathead Reservation in Montana, Kicking Horse job corp students reported they were told to sign and hand their absentee ballots over to someone from the tribe to hold for them, not realizing the ballots would be filled out and used in the state and national general election.
[ You can find the contact information for your delegation at senate.gov and house.gov. ]
Highlights of Senator Udall's 2019 bill, S 739:
(C) certifies that the Indian Tribe will ensure that each such polling place will be open and available to all eligible voters who reside in the …regardless of whether such eligible voters are members of the Indian Tribe or of any other Indian Tribe;
[NOTE: …or…regardless of whether the person is a non-tribal member???]
(D) requests that the State shall designate election officials and poll workers … or certifies that the Indian Tribe will designate election officials and poll workers to staff such polling places on every day that the polling places will be open.
(e) Mail-In balloting.—In States or political subdivisions that permit absentee or mail-in balloting, the following shall apply with respect to an election for Federal office:
(1) All postage shall be prepaid by the Federal Government and each ballot postmarked the day the ballot is received at a postal facility located on Indian lands.
(2) An Indian Tribe may designate a Tribal Government building as a ballot pickup and collection location at no cost to the Indian Tribe. The applicable State or political subdivision shall collect ballots from that location.
[NOTE… danger of ballots being intercepted and used.]
(3) The State or political subdivision shall provide mail-in and absentee ballots to each registered voter residing on Indian lands in the State or political subdivision without requiring a residential address, a mail-in or absentee ballot request, or an excuse for a mail-in or absentee ballot.
[I don't think I need to note the danger here.]
(4) The address of a designated Tribal Government building that is a ballot pickup and collection location under paragraph (2) may serve as the address and mailing address for voters living on Indian lands if the designated Tribal Government building is in the same precinct as that voter. If such designated Tribal Government building is not in the same precinct as the voter, the voter may use the designated Tribal Government building as a mailing address and may separately designate the voter's appropriate precinct through a description of the voter's address, as specified in section 9428.4(a)(2) of title 11, Code of Federal Regulations.
[NOTE… danger of ballots being intercepted and used.]
(3) RULE OF CONSTRUCTION.—Nothing in this section shall be construed to prevent a State or political subdivision from providing additional polling places on Indian lands if no request was made by an Indian Tribe under this section.
[NOTE: So…if a tribe doesn't ask for all this… a helpful "progressive" state or county can set it up for them?]
SEC. 7. Tribal preclearance.
(a) Actions requiring preclearance.—No State or political subdivision may carry out any of the following activities unless the requirements of subsection (b) have been met:
(4) Eliminating in-person voting on the Indian lands of an Indian Tribe by designating an Indian reservation as a permanent absentee voting location, unless—
(A) the entire State is or becomes a permanent absentee voting State; or
(B) the Indian Tribe requests such a designation.
[NOTE: Tribal gov't can ask for total absentee ballots for their entire membership – and control over everyone's vote?]
SEC. 8. Tribal voter identification.
(a) Tribal government identification.—If a State or political subdivision requires an individual to present identification for the purposes of voting or registering to vote in an election for Federal office, an identification card issued by a federally recognized Tribal Government, the Bureau of Indian Affairs, the Indian Health Service, or any other Tribal or Federal agency issuing identification cards to Indian voters shall be treated as a valid form of identification for such purposes.
[NOTE: The wording doesn't specify type of card. ie: A state can issue special ID cards for non-driver's; could a tribal govt issue cards specifically for voting?]
(c) Online registration.—If a State or political subdivision requires an identification card for an individual to register to vote online or to vote online, that State or political subdivision shall consider an identification card as described in subsection (a) to be a valid form of identification for the purpose of registering to vote online or voting online.
——————
PLEASE SHARE THIS with people who will contact their Senators and Representatives. I will also begin informing people, but will not be able to do a tremendous amount because of several projects.
[ You can find the contact information for your delegation at senate.gov and house.gov. ]