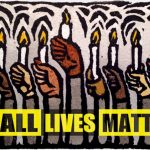 For the past week – I haven't known what to say. My mind has felt blank.
I grew up in the Twin Cities. As a young adult, I lived in the neighborhoods where all this is happening. I shopped at the first Target that burned.
Most of my family is still in the Twin Cities. Extended family of four different heritages and array of skin tones.
But it isn't just that. It's the insanity of everything that is happening – and there is so much to say that I don't even know where to begin.
There is so much to say – that I am at a loss for what to say, if that makes any sense.
The huge number of lies – the huge number of people believing them. The disregard for genuine truth, rule of law…
Honest debate – genuine arguments – don't matter in the midst of this. Truth is irrelevant, because too many people no longer care about documented history, the Constitution, let alone God. They want what they want – and they won't let anyone or anything stand in the way. Rage and hate is the rule right now.
– they won't even agree on the truth of two distinct genders, for heaven sake…
It isn't just one single group this is coming from. It is several factions of diverse background working together – all under the umbrella of 'progressive." In some cases, the only thing they have in common is a disdain for Jesus Christ, Capitalism, and/or historical America. After the Progressives attain the power they seek, they will get busy destroying each other, much like Hitler destroyed those that had helped him early on.
There is a claim that some right-wing group that no one has ever heard of was instigating some of the riots. I don't believe it. People who honestly believe in God and rule of law DON'T do that, plain and simple. But I also don't believe it because no one had ever heard of the blamed group before. I believe it was made up – much like the many other things the extreme left has made up over the last eight years or so.
The demand coming from the Minneapolis city council that they dismantle the police force and replace it with… ? They won't say what they are replacing it with – but don't doubt they have already decided. Look at the instigator – former Congressman, now state Attorney General Ellison's son – who is on the Minneapolis City Council. Look at the number of Muslims now in upper seats of leadership in the Twin Cities. This is now the power voting block in Minnesota.
Of course they have thought deeply about what to replace the police force with. They intend to implement a form of sharia law – only they will start out with just calling it some type of Community 'something'. They won't use the word sharia – at least not right away.
But even if it is a peaceful 'force' to start with – do not be naive enough to believe any 'force' can or will remain perfectly objective and fair for any extended period of time. And if the new 'force' isn't operating 100% within Constitutional Rule of Law, what then? Many of those currently demanding the dismantling of the Minneapolis police force have already made it clear their dislike of 'white' Americans.
They've played the more foolish Americans so well, the Progressives have even succeeded at getting 'white' Americans to profess their disdain for white Americans, and major corporations to grovel at their feet.
This truly is a terrifying, terrible time for America. We are truly on the edge.
If the Progressives can't win the November election by legal means – they will attempt to do it illegally – and if that doesn't work, the true fascists that they are, they intend to do it through violence. That much is clear.
This makes it no different than when Hitler's brown-shirts were intimidating the opposition in the early 1930's.
The Progressives are evil incarnate – it is everything we have always been warned about.
I am glad my father, who was born in Breslau in 1929, passed away four years ago – so he didn't have to live through it twice.
God be with us all.
Dear Lord God – please intervene and save us and our nation. We ask this in the Holy Name of Jesus Christ.