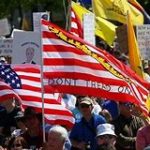 Civil Disobedience is an act of peaceful defiance to the government in order to gain concessions. Civil disobedience is not a disregard for law or a disrespect of law-officers. It is a nonviolent "refusal to obey governmental demands or commands" and is usually done collectively, although not always. Gandhi referred to it as "satyagrahi," which meant "truth-focused, non-violent non-cooperation."
Civil Disobedience draws attention to the difference between constitutional 'rule of law' and illegitimate power grabs. It is a last resort after properly organized petitions, legal voting, respectful lobbying of officials and other steps have failed. Although it is non-violent and careful not to infringe on the life, liberty or property of others, one must be prepared for possible jail time or other punishment when practicing Civil Disobedience.
With respect to Civil Disobedience, St. Paul urged the Church of Christ living in Rome to "offer your bodies as a living sacrifice, holy and pleasing to God—this is your true and proper worship," and "Do not conform to the pattern of this world, but be transformed by the renewing of your mind" (Romans 12:1b-2a). He goes on to explain how we are to use our bodies and skills for God's glory – reflecting his love, service, humility and mercy. But also, to hate what is evil and cling to what is good (Romans 12:9b). In hating evil, he warns, do "not take revenge, my friends, but leave room for God's wrath . . . Do not be overcome by evil but overcome evil with good." (Rom. 12: 19 & 21). In the face of profound and intractable disagreement, Christians are to stand as ambassador's in chains. While Romans 13 instructs Christians to submit to state authorities, Ephesians 6:10-17 instructs Christians to
10…be strong in the Lord and in his mighty power. 11 Put on the full armor of God, so that you can take your stand against the devil's schemes. 12 For our struggle is not against flesh and blood, but against the rulers, against the authorities, against the powers of this dark world and against the spiritual forces of evil in the heavenly realms. 13 Therefore put on the full armor of God, so that when the day of evil comes, you may be able to stand your ground, and after you have done everything, to stand. 14 Stand firm then, with the belt of truth buckled around your waist, with the breastplate of righteousness in place, 15 and with your feet fitted with the readiness that comes from the gospel of peace. 16 In addition to all this, take up the shield of faith, with which you can extinguish all the flaming arrows of the evil one. 17 Take the helmet of salvation and the sword of the Spirit, which is the word of God.

Ephesians 6:10-17
The balance is in prayerful, peaceful, Civil Disobedience.
Many of the "protests' that took place around the nation in 2020, including Minneapolis, Seattle and Portland, as well as in Baltimore in 2015 and Ferguson and St. Louis in 2014, were not examples of Civil Disobedience. They were riots, often ending in criminal vandalism, arson, and theft.
Many of their methods maliciously disregarded the lives, liberties and property of others in their community. They destroyed the shops of struggling, low income neighbors; injured or murdered innocent bystanders and law-enforcement officers, and robbed people of their liberty by preventing them from trans-versing the roadways on their way to work, school; daycare to pick up children; hospitals for medical care, and more.
Despite rhetoric otherwise, those types actions did not bring wide sympathy or popular support to the cause they were touting. While many who were repelled by the violence (as well as increasingly nonsensical policies involving pediatric gender transitions, abortion of full-term children, and other social extremism) did not speak out due to intimidation by the 'cancel culture' rooted within the anarchy, their true feelings were evidenced by the push-back at election time – with an increasing number of citizens fleeing the Democratic Party as it seemed to support the lawlessness.
It is now time for citizens to stand up for truth and justice through the use of genuine civil disobedience – while doing nothing that would harm the life, liberty or property of your neighbors.
PASSIVE

CIVIL DISOBEDIENCE
Passive Resistance is the determination not to cooperate with government overreach, in particular where there is no rule of law involved. Go on with life as you normally would. Simply refuse to do as expected or listen to new directives.
This can be as simple as refusing to take down political yard signs – (or putting them back up if you have already taken them down). Refuse to concede that a lawful election has been completed. Continue supporting your candidate with a lawn sign.
Refuse to stop working or going to church when ordered. Continue using proper antiseptics in cleaning, social distance if possible, and wear masks if you feel necessary, but knowing that varied doctors and scientists are not in agreement as to the benefit of various public health directives, refuse to allow the government to sabotage your life, liberty and property any longer.
Refuse to accept a vaccine that uses the cells of innocent children. Determine you will not condone government claims that protection of citizens requires the murder of defenseless babies – nor be an accomplice to it.
Refuse to use any pronoun other than the common pronouns of the 20th Century, and apply them as you feel most appropriate. This is not about hurting the feelings of those who want to choose their own pronouns. The reality is that far left activists do not get to dictate grammar. Many doctors believe it actually does a teenager more harm than good to play along with what might be just temporary confusion or rebellion. Politely, calmly, but resolutely, disobey the language authoritarians.
English subject pronouns include I, you, he, she, it we, and they. English object pronouns include me, you, him, her, it, us and them. Possessive variants include my, mine, your, yours, his, hers, its, ours and theirs. Toss a "self" on the end of the possessives if you want to be reflexive or intensive. And that is it.
PROACTIVE

CIVIL DISOBEDIENCE
Active Civil Disobedience involves setting aside a portion of time for rebellion, knowing it could bring unpleasant repercussions.
Participate in Peaceful marches – While it began as a peaceful and licensed protest – not an act of Civil Disobedience – DC officials have taken steps to make the day there unpleasant. Thus, marchers will be showing up in defiance of public officials. The March to Save America Rally begins at 7am on Wednesday, January 6 at the Ellipse in Washington DC. Find out more at https://trumpmarch.com/
Participate in Peaceful Sit-ins – on Tuesday, January 5th, beginning at 9 am, citizens are called to stage 'sit-ins' at the offices of their governors, Attorneys General, and Secretary of State. If you do not live in or near your state capitol, stage a 'sit-in' at the closest state office of your US senator or congressman – or at the election office of your local city hall or county courthouse. If you are not allowed in the building, you should gather outside the main doors – peacefully 'sitting-in' for justice and liberty, demanding that
1. A genuine investigation of voter fraud be conducted, and
2. Safeguards be enacted to ensure honesty in future elections, and
3. NO stimulus funds be spent on congressional pork or foreign quid-pro-quo. Instead, debt relief for struggling US citizens is needed.
Read more at https://dakotansforhonestyinpolitics.com/2020/12/25/day-of-civil-disobedience-tuesday-january-5th/
Participate by Peacefully chaining oneself to structures – Without damaging the structure in any way, including with permanent paint – and without infringing on the free movement of other citizens.
These are just some examples. There are many ways citizens can peacefully resist illegitimate authorities.