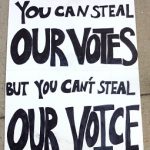 CHIPPYGATE:
Tribal Government corruption on the Leach Lake and White earth Reservations of Northern Minnesota
EXCERPTS from the Ojibwe News/Native American Press
From the Native American Press: June 7, 1996
---
Defense overwhelmed by vote fraud evidence in week 4 of Chippygate
by Greg Blair
The enrollees came from all over the country, many of them full-blood Indians, while some had blonde hair and blue eyes. However, not one of them hesitated when asked by prosecutors if they were eligible to vote in the White Earth reservation's elections. "Yes," was the answer jurors heard from nearly one hundred witnesses who testified this week that they were denied the exercise of this right by the fraudulent practices of Darrell "Chip" Wadena's gang. Some of the witnesses reported that they had never lived on the reservation or voted in tribal elections. One of the witnesses was a doctor, another was a former Twin Cities radio personality, one was a minister and yet others were successful businessmen and women. Some were raising families, others were retired elders and some were also struggling in poverty.
Many said they had left White Earth as young children or older adults. Others said they had voted on the reservation, but not by absentee ballot. Yet others said they had voted once, but prosecutors showed them two sets of signed ballots for verification. Still others insisted that they had never voted in the reservation's 1994 general election, but that they had voted in other past White Earth elections.
By day's end, the federal courthouse in St. Paul, Minnesota was resembled a White Earth reunion more than a federal corruption trial. The get-together was even larger than during the reservation's founder's day Pow-Wow held in mid-June each year.
A common sentiment was expressed by one witness, who said after testifying, "That's the reason my parents left the reservation, there is too much corruption and I guess it's still going on."…..
---
Leech Lake members, residents played key role in White Earth vote conspiracy
By Jeff Armstrong
White Earth Reservation officials used funds from a public assistance program with a $1.1 million annual budget to compensate Leech Lake and White Earth members who helped them obtain and certify fraudulent ballots in 1990 and 1994, according to testimony in the federal conspiracy trial of White Earth's top officials.
Indicted White Earth election board chair Carley Jasken also directed the assistance program, but despite the federal charges, Jasken will be responsible for overseeing next Tuesday's balloting.
Eleanor Craven testified that she and fellow Leech Lake member Leo Gotchie, then a district RBC candidate, were campaigning for absentee votes on May 25, 1994, when they stopped at Peter Peqette's south Minneapolis home. Craven said Gotchie suggested the stop in hopes of obtaining gas money for their return trip by using her notary seal to validate White Earth ballots.
Shortly after their arrival at Pequette's, Craven testified, Jerry Rawley showed up at the residence with an attache case full of "hundreds" of signed absentee ballots in sealed envelopes. Although the Minnesota Chippewa Tribe's election ordinance requires absentee voters to sign the "affidavit envelope" in the presence of a notary public – who must then verify that the voter actually cast the enclosed ballot – Craven said she and Pequette proceeded to notarize the invalid ballots.
….Craven said Rawley then collected the votes and handed Gotchie an apparent payment. "He gave something to Mr. Gotchie and he said, "here, take care of your notary,"
….Among the "votes" delivered on May 25, 1994 were those of Cheryl Boswell and her brother Neil. Ms. Boswell, like more than three dozen witnesses in a single day, testified that she never voted in the election and that the ballot envelope in her name was a forgery. Boswell also caused a subdued stir in the courtroom when she told the court that she knew her brother's vote was false because Neil Boswell had died six months prior to the election.
…An employee of Harper's at Leech Lake maintenance, Terry LaDuke, received two payments of $400 each from the White Earth general fund in 1994. LaDuke testified that it was a common practice at both Leech Lake and White Earth to gather ballots to be notarized, with or without the voter's presence.

---
Money is at the core of court queries
By Pat Doyle
The question drew a response that startled some in the courtroom: How much money do you make in a year?
When Darwin McArthur, executive director of the White Earth Band of Chippewa, replied that he made $59,000, a tribal member in the spectator section gasped.
By standards of the White Earth Indian Reservation, McArthur's salary is extraordinary – but not close to the income of his bosses.
……Jurors…listened to testimony of how council members tapped tribal accounts to buy themselves vehicles or to pay their taxes.
"If they tell you to issue a check, that's what you do?" a prosecutor asked McArthur.
"Yes." he replied.
In 1993 tribal funds provided $240,122 for Chairman Darrell (Chip) Wadena, $209,507 for council member Rick Clark and $187,237 for Secretary-Treasurer Jerry Rawley.
Prosecutors say those figures include tens of thousands of dollars that the officials embezzled from their tribe by creating gambling and fishing commissions that provided them with checks for work they didn't do. Additionally, Wadena and Rawley are accused of accepting bribes or gratuities if $428, 682 and $21,500 respectively from Clark to assure that his drywall firm would land a contract to help build the tribe's Shooting Star Casino in Mahnomen.
….In their questions to witnesses, defense attorneys have suggested that tribal officials deserved the money because they built a casino that employs about 1000 people, most of them Indians, on a remote reservation in northwest Minnesota. Moreover, they say the officials were operating in the belief that treaties and federal statutes over the years gave them the authority to do what they did. And defense lawyers have tried to convince the jury that over-zealous federal investigators singled out Wadena, Rawley and Clark for conduct common among Indian officials.
Whatever its outcome, the trial exposes a tribal government operates without checks and balances, in which council members typically avoid scrutiny by their constituents or non-Indians. Council members made decisions about their pay at meetings they routinely held without notifying White Earth members. McArthur said they did so to avoid opposition.
---
Bill Lawrence was a Red Lake Band Ojibwe member who grew up in Bemidji. A military vet, attorney and journalist, Lawrence was a watchdog of Minnesota's tribal governments for more than two decades.
Lawrence founded the Ojibwe News in 1988 in response to tribal government corruption. His work helped federal prosecutors go after tribal leaders and other politicians. He had crusaded to open the books of Minnesota's 11 Indian casinos and his investigative reporting helped send several tribal leaders to prison in the 1990s. Lawrence passed away with cancer at the age of 70 in 2010.